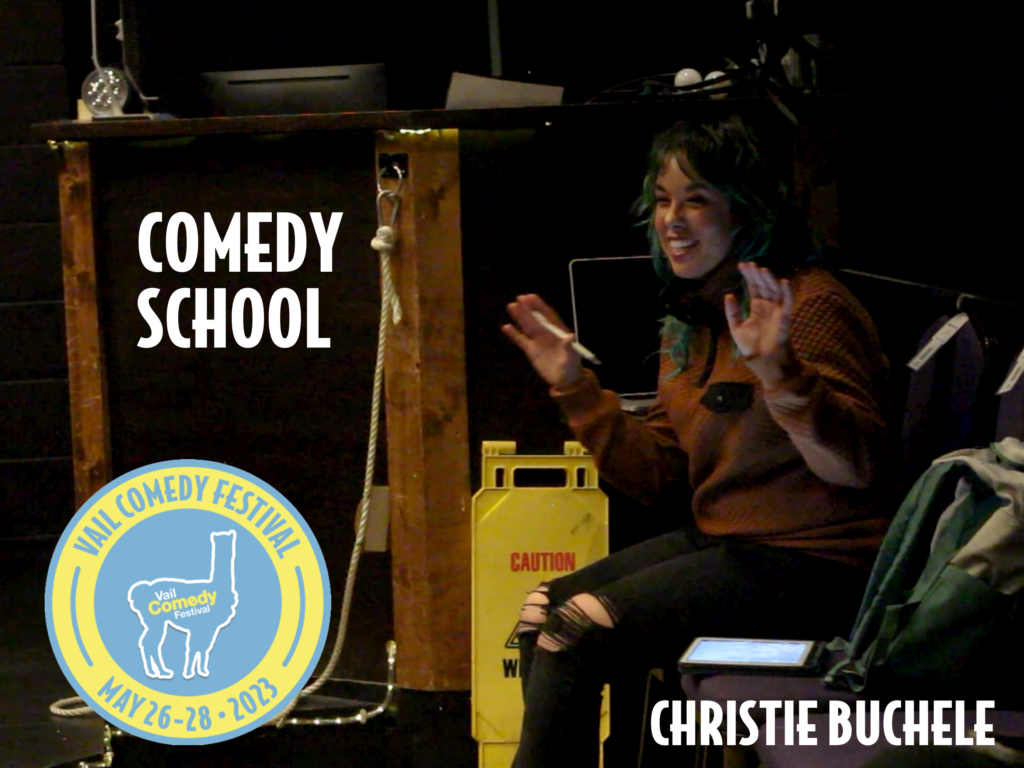 Do you want more laughter in your life?
The Vail Comedy School is hosting a one-day comedy school on May 25th, 2023 in Vail, Colorado. Secure your seat in this fun and useful class. This is for anyone looking to improve their public speaking and inject more humor into their life. This all day event will be curated and primarily taught by nationally touring comedian Christie Buchele. Christie has been seen on TV and has taught comedy classes at resort towns and comedy festivals in the past. Several sessions presented by special guests will round out your day which will include an opportunity for you to perform! Kick off your 2023 Memorial Day Weekend with this class and stay for the Vail Comedy Festival!
Why should I take a comedy class?
If you are brand new or a newer comic, you'll gain proven techniques to make your jokes funnier and how to work on jokes at open mics. This class will help answer questions you have about how to get started and what's next for newer comics.
If you are an established comic, don't miss out on this opportunity to hone your craft. Christie has been teaching comedy classes for years and mentored many working comedians. Christie's notes are gems that comedians treasure. She has a unique ability to not only break down how to get laughs but also tailor them to your style and material. Come experience first-hand why Christie is known as the Joke Mentor.
If you are a working professional, comedy will make you more memorable and relatable. We hear from salespeople and podcasters about how this improves their work. In this class you'll learn strategies to break the ice and read a room. Bottom line, you'll get better at public speaking and build more confidence.
One Day Class on May 25, 2023
In this one day in-person class in Vail, Colorado, you will learn about
Taking a story from the dinner table to the stage
Using details to make your joke pop
Connecting to emotion to write jokes
Body Language crash course
Strategies for using your time wisely when you're still an open mic'r
Strategies for dealing with hecklers
Hosting do's and don'ts
Getting a good tape
Additionally, there will be a chance to perform and get feedback during the class as well.
Tickets are available now.